Vehicle Wraps
So you are interested in having your company vehicle dressed up with some lettering and graphics. We will show you the steps we take when you do a graphics job for a vehicle.
Step 1
​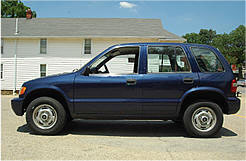 In step one we meet with the customer and photograph the vehicle that they would like to be done. We take pictures of all of the sides that graphics will be applied to. For this example we'll just show the drivers side of Molly's Flowers. Careful measurements are taken of the vehicle at the time of the photographs. With these measurements we are able to scale up the picture in our design software and begin the design process.
Step 2
​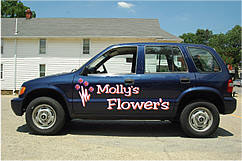 Now that we have the vehicle photographed and scaled to size, we now start to work with what the customer would like on the vehicle. Since this is going to be Molly's delivery vehicle we wanted it to be bright and colorful and easily recognizable that this is a flower shop vehicle. We took Molly's logo and put it into the design. Here we show where the lettering will be placed. Having a good picture of the vehicle is a great advantage as we are able to see exactly where the graphics need to be placed to miss any obstructions like handles, moldings, ect.
Step 3
​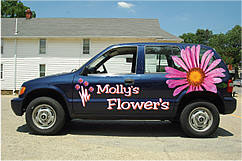 In this step we needed to find a nice bright flower that would match the color of the vehicle. We searched and found this nice pink flower. We selected it from the background of the photo and placed it on the car. As you can see, part of the flower is going over the window. This is no problem because we have a special film that allows the occupants of the vehicle to see through the graphics.
Step 4
​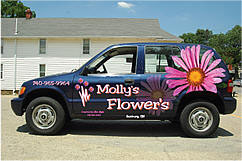 The final items were added to complete the design. We put another flower in the background here, added the phone number and city were Molly's is located. We now have a complete rendering of exactly what the vehicle will look like once the graphics are installed. Doing the design process this way eliminates any surprises and you know just what you are getting before we begin production.