Flat Signs
​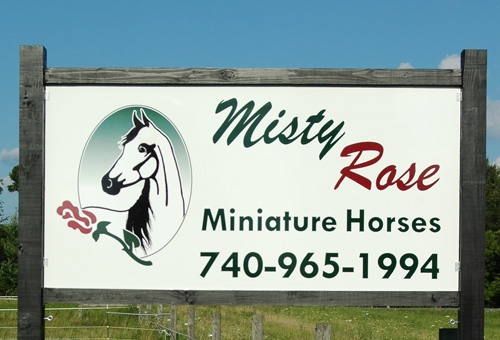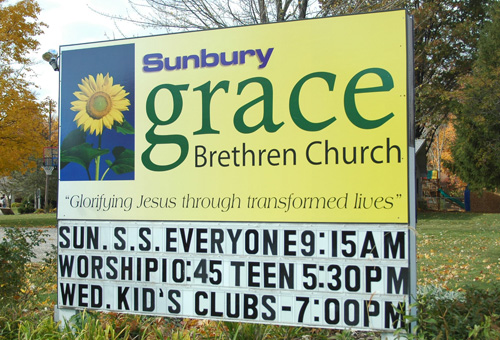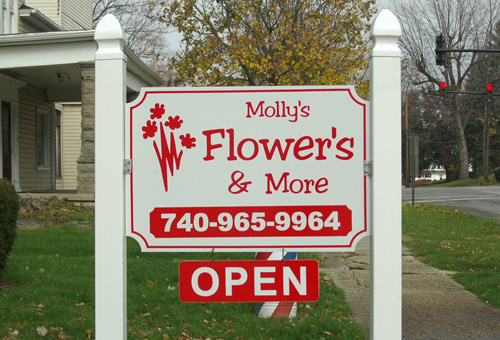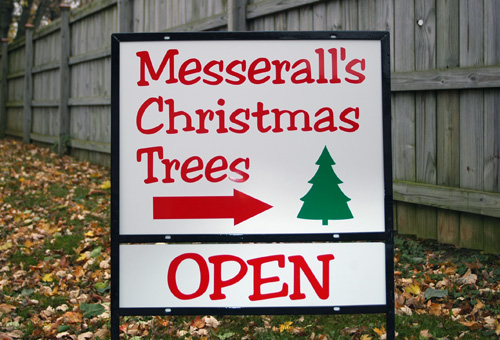 What can you use are signs for:
Point-of-Purchase signs
Directional/ Street signs
Numbering/ Address signs
Building site signs (temporary or perminate)
Yard signs
Sandwich board signs
And much more...
Materials
Sure Signs uses many materials to construct our customers signs depending on their needs. Described below are samples of previous customers signs and how they were constructed. Give us a call and find out how we can create a custom sign that fits your needs.
Time Warner
​

Time Warner's Sign is an example of how we can modify an existing sign and save the client from having to completely replace an existing sign. We simply cut two pieces of aluminum and applied vinyl graphics to the boards and attached them over the existing sign. This is a great option to utilize and update a sign that just needs a facelift
Ross Eagle Sales
​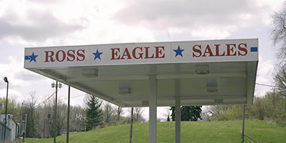 Ross Eagle Sales sign was a job where we replaced all of the panels in the canopy at an old gas station that was converted into a car lot. These panels are a sign grade Lexan that vinyl graphics were applied to and inserted into the overhead canopy. These panels are translucent to allow for backlighting to be used. These panels are also virtually unbreakable, and will withstand quite a bit of abuse.
Molly's Flowers
​

Molly's sign is a two sided sign made from ½" thick PVC. This material comes in white and is a good choice for a smaller exterior sign. The graphics on this sign are cut vinyl. We use this material for signs that are no longer than 4' wide and 3' tall. The shape of this sign was routed on our CNC router. We can cut any shape sign blank that you would like. This material is solid all the way through so there is no need to protect the edges.
Eagle Insurance Agency
​

This sign is two sided made from ½" thick MDO plywood that has a thin aluminum laminate on both sides. This is a very durable and strong board that has a painted white surface. The customers wanted the sign to be red so we painted the sign with DuPont Chromabase and Clearcoat. This is an automotive paint system that we mix in our own shop. We are capable of mixing virtually any color you can think of. The graphics are a combination of cut vinyl and a printed eagle.
Misty Rose
​
The Misty Rose sign is made from ½" thick MDO plywood. This is a two sided sign made on one sheet of material. We were able to make this sign using one board since this was a completely new sign project. We designed the posts to be able to support the sign board by being mounted between the structure without interfering with the graphics. Edges of the board we treated with a urethane caulk that seals them nicely. The graphics on this sign are a combination of cut vinyl and digital prints.
Sunbury Grace Brethren
​

Sunbury Grace Brethren's sign is made from ½" thick MDO plywood. This is a two sided sign mounted between two posts. This sign replaced an existing sign so we used the original posts. The graphics are a full color laminated digital print with a life expectancy of at least 5 years. The lower part of the sign is the same MDO material that we attached changeable lettering track to. This gives them the ability to change and list current events that are happening at the church. We also used an edge cap system on these signs to protect the exposed edges of the MDO sign board. With the ability to print any full color graphic, your design possibilities are endless for a nice exterior sign like this one.
Messerall's Christmas Trees
​

Messerall's Christmas Trees signs are made from an 1/8" thick board that is a solid core rigid plastic laminated with thin painted aluminum. Manufacture names for this board are Dibond and Polymetal. This material is available in multiple colors such as blue, green, yellow, red, black, and white. This is a great board for a wide variety of signs. We also make these yard signs using Coroplast, 3 mil PVC, and .040 aluminum. Give us a call and we can recommend which material is best for your yard sign application.